Meet The Team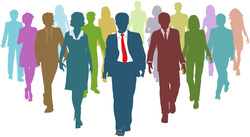 We would not be Elite HR Team without the "Team."

We value synergy: the interaction of multiple elements in a system to produce an effect greater than the sum of the individual parts. We also value energy, and the members of the Elite HR Team bounce ideas off each other, feed off each other, and inspire each other to bigger, better, greater things. We have recruited top talent in areas of human resources and management excellence.

We want to "practice what we preach." We aren't just a consulting firm. Elite HR Team is also an example of the type of small business we want to inspire others to become. We use the strategies and solutions that we recommend, and we show that they work! We focus on the strengths of each team member and use those strengths conscientiously to achieve results. We emphasize passion and the idea that every person makes a difference. This takes "work" to a whole new level and allows the tasks that take up so much of our time to matter, both in the sense of accomplishment on a weekday and as part of the big picture.

We want work and career to be part of a fulfilling life. We enjoy working with our colleagues and clients, but we also want to strive for efficiency and excellence, which frees up time for a social life and family life.

Each member of the Elite HR Team is excited to go to work in the morning. We love our jobs, we love our lives, and we want you to feel the same way!
---